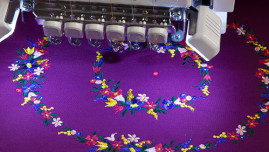 Needle Beam for Embroidery
The Needle Beam highlights your needle position so you know exactly where embroidery will start. Your embroidery will be perfectly placed every time.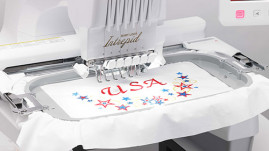 7-7/8" x 11-3/4" Embroidery Area
Embroider on a massive 7-7/8" x 11-3/4" space, giving you more room than ever before!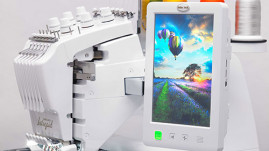 TruView™ IPS LCD Touchscreen in HD
This high-definition TruView IPS LCD touchscreen brings your embroidery designs to life. It displays over 16 million colors. Plus, large touchscreen buttons help with quickly editing designs and accessing machine settings.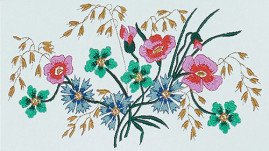 86 Embroidery Designs
Choose from 86 built-in embroidery designs with 60 exclusive designs. You'll find inspiration for any embroidery project ready to go at the touch of a button.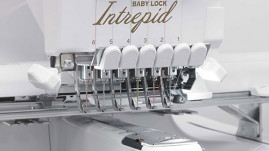 Six Efficient Needles
With six needles, you'll love how quickly you can embroider large, multi-colored designs. And if you're running an embroidery business, you can finish projects without excessive thread changes between jobs.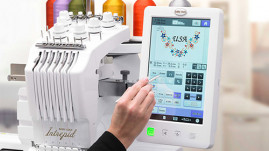 Onscreen Editing Capabilities
With onscreen editing at your fingertips, you can make quick changes to designs. Drag and drop designs on the LCD screen and make instant changes. Combine, reposition, rotate, and mirror designs to customize every project.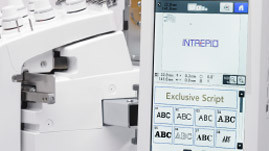 37 Built-In Fonts
The Intrepid comes with a variety of built-in fonts to help make every project unique. The 37 built-in fonts include a large floral alphabet and Greek letters. Now you can give every project a distinct look.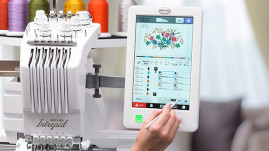 Embroider at 1,000 SPM
Embrace larger, multi-colored designs and watch them stitch in no time! The Intrepid works at up to 1,000 stitches per minute.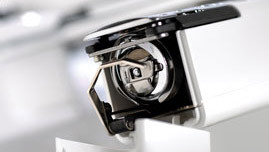 Convenient Bobbin System
This front-loading bobbin system with a vertical hook makes bobbin changes a cinch. You never have to remove your embroidery hoop.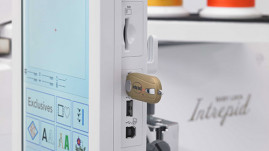 Three USB Drives (2 Type A, 1 Type B) and SD Card Slot
Use USB connectivity to quickly import your very own designs to your machine from a computer or flash drive.